Johan Inger
Koreograf
Född: Stockholm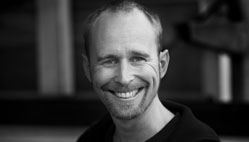 Johan Inger was born in Stockholm and educated at the Royal Swedish Ballet School and at the National Ballet School in Canada. In 1985 Johan Inger joined the Royal Swedish Ballet, where he in 1989 became a soloist. In 1990 he joined the Nederlands Dans Theater (NDT) in Holland.
Johan Inger's official breakthrough as a choreographer came with Mellantid (Swedish for In Between Time) – his first work for NDT II – as part of the 1995 Holland Dance Festival. This work was crowned with the 1996 Philip Morris Finest Selection Award in the category of Contemporary Dance. Mellantid has been followed by several creations for NDT I, NDT II and NDT III.
In 2001 Johan Inger's Mellantid was nominated for the British Laurence Olivier Award as 'Best New Dance Production'. In October 2001 he received the Lucas Hoving Production Award for his works Dream Play and Walking Mad. In 2005 Walking Mad and Cullberg Ballet received Danza & Danza's award for best performance in 2004. In 2006 Johan Inger received the Birgit Cullberg scholarship.
Johan Inger left the artistic directorship of Cullberg Ballet in the summer of 2008 to continue as a freelance choreographer. He lives in Sevilla, Spain, and is currently resident choreographer for NDT.